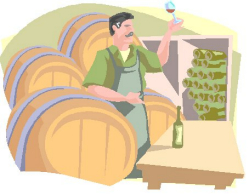 One day while reading Carlo De Vito's East Coast Wineries blogspot, I came across his post reviewing nine films about wine. Curiously, I made it a point one Friday night to trek over to my local Blockbuster to rent one of his recommended movies—Bottle Shock. As an aficionado of all things wine, I was excited about pausing a moment to kick my feet up for a spell and enjoy a movie that I expected would momentarily take me away via images of beautiful wine country, themes, and storytelling about wine.
I found Bottle Shock to be a delightfully cute and charming movie. It was about the "Judgment of Paris", a 1976 blind wine tasting wherein French judges shockingly awarded the highest honors to wines made in California, dispelling the notion that only the French could make great wines. A sub-theme of the movie was the hurdles it took to get the wines to be judged, across the transatlantic to France without experiencing "bottle shock" that often comes with transport. The multitude of efforts and passion reinforced the fact that one can't really watch this movie without being mindful of the winemaker's love affair with the vine!
As I stopped to reminisce about my own past experiences and enjoyment of what I believed to be was a great bottle of wine, I recalled how I paired the wine with a great meal I prepared or shared in a memorable dining experience. My mind glimpsed back to that special sentimental evening I spent with Mr. Charming who whispered sweet nothings in my ear as we listened to soft sounds of the jazz quartet in the background. Each of us can likely look back on that special anniversary, graduation or new birth of a child wherein that favorite wine helped to make the moment du jour.
But in our reminiscing, what is often forgotten are the long hours of frustration, toil, and painstaking efforts the winemaker must have gone through in order for us to get lost in our magical momentary state of emotional bliss experiencing the end result of the winemaker's good works. Surely by design, the winemaker nurtured his wine and perfected his craft in such a way so as to entice our taste buds into that very emotion causing us to appreciate those unforgettable moments wherein we look back in our pasts and say to our friends and loved ones, "do you remember the time".
But, let us not forget, that someone made it their business to get that great wine from the vineyard, to the winery, to our table. And what a business it is indeed! This intersection of the winemaking business and law historically dates back over 100 years. As a lover of wine and law, this appreciation distills my reasons for marrying my profession of law and my passion for wine together. When I contemplate the merger, I think about the value, the pride and the amount of people who had a shared passion to bring their dreams to reality.
But despite the artistic factors, sweat, and love that go into the winemaking process, one must not forget that it is a business. It's a business that if not done properly, can be filled with numerous landmines for failure. Immersed in acting on one's creative juices can often overtake one's good wisdom for protecting one's winery, wine-producing, or hospitality business.
In Pennsylvania, many of these multi-generational businesses are family owned. New generations are joining the industry following in the footsteps of the founding winemaker. At the end of the day, lots of decision-making and responsibility comes with financially and legally protecting the fruits of the winemaker's labor. Getting past the hard work and sweat that went into the dirt, the chemistry, energy and efforts necessary to bring the winemakers vision to reality, a new chapter begins. You must turn the page, and consider how to protect the fruits of your labor? If you're that vintner there are protections to be had all long the continuum of getting your wine to our dining room tables responsibly.
Whether these legal protections takes the form of a well though out succession planning, grape or employment contracts for that "gold medal" winning enologist, or establishing requisite safeguards for that upcoming wine event staged on your premises, —-at the end of the day you must legally protect your dreams and your brand.
Subsequently when you as winemaker have your own quiet moment to kick back and enjoy your own tasting, you can do so with ultimate peace of mind. You'll rest easy knowing that neither "Bottle Shock" nor "Business Shock" prevailed for the day. Instead you created a shockingly great wine the business of which is legally well protected!
http://pennsylvaniawineryandhospitalitylawyer.com/wp-content/uploads/2009/08/winemaking.gif-451X352-pixels1.jpg
195
249
Judy Young
http://pennsylvaniawineryandhospitalitylawyer.com/wp-content/uploads/2016/10/44222-300x169.png
Judy Young
2009-08-09 21:01:31
2016-10-04 07:32:12
The intersection of the winemaking business and law