Was that you who asked was it fun to uncork a Pennsylvania Wine Trail?  The answer is "You Betcha!"  Pennsylvania is home to 11 wine trails.  Wine Trails typically include several wineries and vineyards located in close geographic proximity to each other.   The Bucks County Wine Trail includes eight wineries.  For our family weekend road trip we decided to "uncork" the Bucks County Wine Trail.   In our travels, we discovered New Hope Winery!
New Hope Winery located at 6123 Lower York Road (Rt. 202) in New Hope, PA.    Upon our arrival, we  were met by the warm smiles of husband and wife  owners Sandra Price and Jerry Sauls. If you're looking for good mood, good company, and good wine, this is the place to be.
New Hope Winery's setting is a 17th century barn that is home to a gift shop filled with exquisite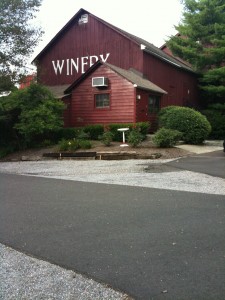 gifts that any worthy shopaholic would find hard to exit. Gourmet baskets and hard to find wine related items set the mood. A digital photo frame on the tasting bar reveals the upstairs loft area with sequential photos of a wonderfully decorated event room tucked away and reserved for private wine tastings with candlelight flickers in a rustic setting. The winery also digitally advertises its 175 person ballroom for those special celebratory and corporate events.
Complimentary tastings at New Hope Winery are hosted by tasting room staff person, Glenn Barnard. Let me tell you, looks can be very deceiving. While Glenn appears at first glance to be a young novice, don't let the Justin Timberlake look alike fool you.  It was clear right away that Glenn possessed both credibility and wisdom as his knowledge of New Hope Wineries' wines was nothing short of "on point." I stated to Glenn that I preferred my red's full bodied and dry. Right away, Glenn steered me to the Proprieter's Red. It was a deep, dry, oak aged red with a smooth silky finish. Not a madly "in your face" wine, but just the exact presence to let you know the wine would never be tagged as "whimpy". I was thinking to myself that the Properieter's Red and a nice rib-eye steak would be a very nice pairing.
For the white selection, Glenn recommended New Hope Winery's Pinot Gris, a light dry white wine produced from the vinifera grape Pinot Gris. We found it to be crisp, clean and refreshing. It was a perfect choice for a mildly hot and sunny day. Both wines were excellent selections.  When I looked over my shoulder, Glenn's colleague Denny was well into a serious discussion with my family conversing on the pro's and con's of screwtops versus corks.
In addition to the wonderful selection of wines housed away in convenient bins, you're free to roam about and experience wholesome camaraderie with Sandra and Jerry. Sandra and Jerry made the trip all so worthwhile. What a treat it was to meet this delightful couple. My heart was warmed watching them bring a smile to our faces and sharing their gift of great Pennsylvania Wines.
The next time your family and friends are looking to experience a fun-filled Saturday afternoon adventure, you may want to uncork Pennsylvania's Bucks County Wine Trail. There you'll find  New Hope Winery on the trail.  Have some fun indeed!
http://pennsylvaniawineryandhospitalitylawyer.com/wp-content/uploads/2016/10/44222-300x169.png
0
0
Judy Young
http://pennsylvaniawineryandhospitalitylawyer.com/wp-content/uploads/2016/10/44222-300x169.png
Judy Young
2009-09-05 20:33:12
2009-09-15 15:13:54
Who Said It Was Fun Uncorking Pennsylvania's Wine Trails?