A couple of months ago, I had the wonderful opportunity to speak with Liz Stamp,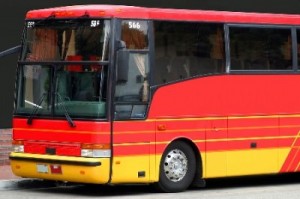 owner of Lakewood Vineyards, located in the Finger Lake Region of New York. Liz shared how the wineries in her area had joined together to safely handle guests participating in bus and limousine wine tours. Their goal was to minimize inebriation and inappropriate conduct amongst the tour groups. The Association's wineries established a Safe Group Wine Tours Program wherein sponsors of the local bus and limousine wine tours are handed a Yellow Card (warning) or Red Card (access denied for the day ) if the winery believes the tour group leader is transporting unruly guests that may have had too much to drink. A Code of Conduct for Group Wine Tasting was created, identifying behaviors that would cause winery staff to raise a flag and refuse service to individuals or groups. These identified behaviors include drunkenness, damage to winery property, theft, rude language, exposure, threatening or aggressive behavior.
The wineries distribute the cards to the tour sponsor and document by way of an incident report, detailed information on the group's behavior. The winery owner then calls ahead to the next winery on the trail to notify the tasting room staff that the flagged group may be headed their way. This allows the next winery owner on the trail the opportunity to decide whether or not to serve the group.
The Wine Trail Association has found the program to be well received by the local tour group leaders, Too, they have discovered that the practice has been found to be effective in curtailing poor behavior.
With numerous weddings, bachelorette parties and other local events planned throughout the year, this program has been found to be a useful tool in encouraging safe and responsible alcohol consumption.
If your winery participates in a wine trail association, perhaps your association may also want to consider safe measures to protect its establishments and minimize liability as your guests proceed down the wine trail. For more information, on the Wine Trails of the Finger Lakes Region, visit www.groupwinetours.com
http://pennsylvaniawineryandhospitalitylawyer.com/wp-content/uploads/2016/10/44222-300x169.png
0
0
Judy Young
http://pennsylvaniawineryandhospitalitylawyer.com/wp-content/uploads/2016/10/44222-300x169.png
Judy Young
2010-03-29 17:28:40
2010-03-29 17:34:30
What Flags For Safety Does Your Wine Trail Association Wave?