This week I had the pleasure of being invited by Dominic Strohlein, owner of Big Creek Winery to be the guest speaker to the membership of Pennsylvania's Lehigh Valley Wine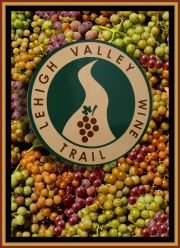 Trail Association. It was a wonderful time starting the new year in their company as they hosted their first of many membership meetings held annually throughout the year.
We used our time together having a very healthy exchange discussing Pennsylvania's Dram Shop Law. We discussed issues of premise liability and its impact on winery and vineyard owners. In Pennsylvania, the laws that govern servers of alcohol, if violated can result in very costly lawsuits. Thus, the manner in which each winery owner can best protect themselves in various environments including the tasting room, wine festivals, wine events, tour group events and commercial carriers can be very complex waters to navigate. Too, we considered how managing potential risks and hazards can be minimized with proper training and knowledge in order to avoid unlawful acts of alcohol service to "minors" or "any person visibly intoxicated".
The Lehigh Valley Wine Trail Association is home to nine family owned vineyards and wineries located in eastern Pennsylvania. Designated an American Viticultural Area (AVA) in 2008, Lehigh Valley is Pennsylvania's fasting growing wine region in the state.
The Lehigh Valley Winemakers include:
Amore Vineyards & Winery
Franklin Hills Vineyard
Sorrenti's Cherry Valley Vineyards
Big Creek Vineyard and Winery
Galen Glen Vineyard and Winery
Blue Mountain Vineyards & Cellars, Ltd.
Pinnacle Ridge
Clover Hills Vineyards & Winery
Vynecrest Vineyards & Winery
I found the Lehigh Valley Wine Trail Association membership to be very proactive in their efforts to keep abreast of new trends and changes in the law so as to conduct their winery and vineyard operations as responsible licensees in their community.
Pennsylvania is home to 11 wine trails throughout the state. This year, as your wine trail association gathers to meet and exchange ideas, you too may want to start your year anew considering how best to protect your winery operations as responsible licensees in your community.
As you usher in your new year and embark upon your Pennsylvania wine country travels, perhaps you'll head out to eastern Pennsylvania and check out the wineries on the Lehigh Valley Wine Trail. I'm certain you'll have a wonderful wine experience.
Thank you again Lehigh Valley Wine Trail Association for the opportunity to meet and speak with you.
Happy New Year to you all!
http://pennsylvaniawineryandhospitalitylawyer.com/wp-content/uploads/2016/10/44222-300x169.png
0
0
Judy Young
http://pennsylvaniawineryandhospitalitylawyer.com/wp-content/uploads/2016/10/44222-300x169.png
Judy Young
2010-01-07 13:29:29
2010-01-07 13:58:40
Bringing In The New Year With The Lehigh Valley Wine Trail Association