Now that summertime is here, your Winery, Restaurant, Wine Business or Bed and Breakfast may permit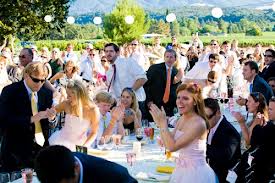 using your facility for events such as festivals, weddings, outdoor jazz concerts and other events that attract customers to your venue and promote goodwill in your community.
When working with event planners you'll need to remember to have a carefully prepared Agreement that will protect your risks and liabilities for the event.
A brief look at things you'll want to consider:
**Outline the premises and facilities that the other party participating with you will be authorize to use. You may desire to restrict certain areas of your property.
**Identify the purpose of your agreement, the parties involved, and the duration of the agreement. Allow yourself a provision that gives you the power to terminate the agreement if necessary.
**Detail the necessary payments, deposits and schedule for which they are to be paid.
**Be clear about which party is responsible for particular services and amenities (food, beverages, security, entertainment, lighting, janitorial clean-up.)
**State which party will be responsible for event permits and licensing.
**Identify who will be responsible for monitoring alchohol consumption of the guests. Make sure the alcohol servers are RAMP trained so they may prevent underage service, excessive consumption and intoxicated guests from driving.
**Allow yourself a provision to be compensated for premise damages that may be incurred during such events.
**Have your legal counsel prepare and/or review your written Agreement prior to the execution by each party.
And by all means enjoy your summertime events!
http://pennsylvaniawineryandhospitalitylawyer.com/wp-content/uploads/2016/10/44222-300x169.png
0
0
Judy Young
http://pennsylvaniawineryandhospitalitylawyer.com/wp-content/uploads/2016/10/44222-300x169.png
Judy Young
2013-06-10 18:40:55
2013-06-10 18:47:59
Protecting Your Pennsylvania Winery and Hospitality Business Summertime Event