Recently I took an unforeseen hiatus from posting to this blog to tend to the needs of my oldest child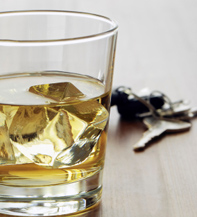 who was recently injured this January in an automobile accident at the hands of a drunk driver. Like most of the mothers of MADD, I too experienced the anguish that comes with that dreadful night in the emergency room, waiting 40 minutes for a simple word from physicians in what felt like a lifetime of silence as to whether my child was to live or die, while the drunk driver walked away with little more than a scratch.
It's horrible to be in a position wherein despite the fact my daughter suffered a brain hemorrhage, short term memory loss, a fractured skull, broken nose, broken ribs, loss of teeth, and deep facial lacerations, I was relieved to hear the words "she's on a ventilator, but is expected live". Two surgeries later, our family is blessed to have her home and recuperating. While her total healing process is expected to take 12-18 months, there are huge economic and emotional losses to recover from as well.
After having lived through this dreadful experience, spending many nights at her hospital bedside and wondering what words of comfort to offer her children who looked to me for words of hope, I am compelled now to post for the benefit of my winery, restaurant, and hospitality business readers how you may protect your business and life's work from the risks and hazards that come from dealing with visibly intoxicated persons who senselessly create liability for your business. If you do not want to be in a position of having to "lawyer up", let's now visit what is important for you to know.
The Dram Shop Law in Pennsylvania makes it unlawful to serve liquor, malt, or brewed beverages to "any person visibly intoxicated". Dram Shop is third party liability law which makes it possible for 2nd and 3rd parties to sue any person for a death, injury, or property damage. Establishments licensed to sell and serve alcohol are commonly referred to as "dram shops". These establishments or "dram shops" are liable to third parties for damages inflicted by customers of the establishment, if the customer was sold, furnished or given liquor by the establishment when the customer was visibly intoxicated when served. Selling alcohol to a minor, selling to a visibly intoxicated person, selling alcohol after hours, or selling without a liquor license is unlawful in Pennsylvania. This Dram Shop statute is designed to protect the public at large as well as the person who consumes the alcohol.
If you're a winery owner on a wine trail for example, and a VIP or "visibly intoxicated person" comes to your winery as well as several other wineries on the trail, and is involved in an automobile accident resulting in an injury to a third party, you and your business are now in the "hot seat". The same is true if you are a restaurant or bar owner serving bar-hopping patrons who later leave in a drunken state, and kill themselves and or others. Because your establishment can be held liable for injuries it is in your best interest to be diligent in ensuring that intoxicated persons are not served more alcohol. In order for liability to attach, you must have actual knowledge or notice of a customer's condition before liability is imposed. Thus its important to have your servers trained in alcohol awareness and to teach your staff the obvious signs of intoxication such as staggering, slurring words, loud speech, drinking too fast, etc. and even the more subtle signs that the untrained eye might not see. This kind of evidence helps to dispel the implication that a patron was served while visibly intoxicated.
The Pennsylvania Liquor Control Board created the Responsible Alcohol Management Program (RAMP) to help liquor licensees and their employees to serve alcohol responsibly. Ramp offers advice to restaurants, winery owners, hotels, clubs, distributors and special permit occasion holders to learn to avoid unnecessary liability and to detect signs of impairment and intoxication.
So as to avoid having your winery or hospitality business "lawyer up" in the face of such dreadful outcomes at the hands of intoxicated persons, protect your business and your life's work by being vigilant in the sale of alcohol and the persons you hold accountable for seeing that your patrons drinking responsibly.
http://pennsylvaniawineryandhospitalitylawyer.com/wp-content/uploads/2016/10/44222-300x169.png
0
0
Judy Young
http://pennsylvaniawineryandhospitalitylawyer.com/wp-content/uploads/2016/10/44222-300x169.png
Judy Young
2010-02-08 20:07:05
2010-03-01 20:43:05
How Not To Have Your Winery or Hospitality Business Lawyer-Up!