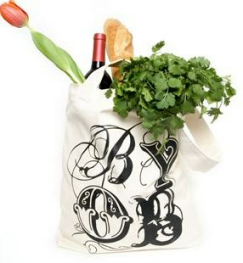 One of my favorite Bring Your Own Bottle (BYOB) restaurants is very nearby to my home. If you didn't know whether liquor was served, one could soon figure that out by watching the brown bags and rattan wine cases under the arms of its many loyal patrons exiting the restaurant.
Today's tough economy has caused foot traffic to increase in BYOB establishments. Restaurants with BYOB policies are now attracting avid foodies reluctant to pay $12.00 for a glass a wine when they can enjoy the entire bottle—BYOB. BYOB's are great because you can bring your own wine without breaking the bank while at the same time sharing your favorite brand that was previously tucked away in your cellar.
In Pennsylvania the Liquor Code currently does not prohibit a person from bringing his or her own alcohol into any establishment. A restaurant is typically free to allow or disallow patrons from bringing their own alcohol on to its premises. The alcohol however, must be legally procured in the Commonwealth of Pennsylvania. If the restaurant chooses to prohibit the BYOB practice by a "house policy", it must apply the policy uniformly without discrimination prohibited by law.
The Code however makes it unlawful for any person to possess any wine or liquor within Pennsylvania that has not been purchased through a Pennsylvania wine and spirits store, a licensed limited winery, or from an entity licensed to sell malt or brewed beverages for off-premises consumption. But foodies and wine lovers beware –what happens if you only partially consume the bottle you brought to dinner and now want to take it with you when you leave?
Well, in Pennsylvania if you leave the restaurant's premises with an unfinished bottle of wine or liquor, you might be required to prove that you lawfully acquired the liquor or wine pursuant to Pennsylvania law. Thus, it is often suggested that folks bringing their own wine or liquor into a restaurant should have in their possession a receipt reflecting the purchase of their wine or liquor. Do keep in mind, that local ordinances may restrict BYOB establishments so you should consider checking in advance with the restaurant to see if any such ordinances or limitations exist.
Restaurateurs may still be held strictly liable of any violations of the Liquor Code that may occur on it premises regardless of whether they involve alcohol provided by the establishment or brought onto the premises by a customer. Potential civil liability can arise from permitting individuals to bring their own alcohol onto premises. As such you should contact an attorney on matters involving liquor law liability.
Bringing your own bottle is a great response to a tough economy. But remember, for both patrons and restaurant owners, potential liability resides "in the bag".
http://pennsylvaniawineryandhospitalitylawyer.com/wp-content/uploads/2016/10/44222-300x169.png
0
0
Judy Young
http://pennsylvaniawineryandhospitalitylawyer.com/wp-content/uploads/2016/10/44222-300x169.png
Judy Young
2009-08-10 11:43:49
2009-08-10 11:43:49
It's In the Bag! Bringing Your Own Bottle In A Tough Economy!!